Registration Required by October 8th at 5:00pm – Registration is now CLOSED.
The GRASP Lab invites you to participate in a day-long symposium of leading executives and engineers involved in cutting-edge robotics. Prominent speakers from industry and academia will be featured, along with ample networking opportunities with GRASP students, alumni and industry representatives.
The 2019 GRASP Industry Day will be held on Friday, October 11th in Wu & Chen Auditorium, 101 Levine Hall at 3330 Walnut Street, Philadelphia, PA 19104. The event will run from 9 AM to 4:30 PM with a reception to follow at Pennovation from 5 PM to 7 PM.
---
Keynote Speaker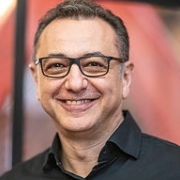 Paolo Pirjanian
Robotics:  From Startups To an Industry
Abstract: Over the recent years we have witnessed a growing number of robotic products make their way into our homes and workplaces. These interactive, talking and walking toys, autonomous vacuum cleaners and package delivery drones may fall short of the Hollywood portrayal of robots, however, they do represent the state of the art.   Robotics is complex and building robotics companies is even more complex.   This is why for every successful robot product there are ten that have joined the graveyard of failing robotics companies.
I will take you through my journey as a robotics entrepreneur and what it entails, beyond just technology, to build a company and (hopefully) successful products for the real world.
Biography: Dr. Paolo Pirjanian is a scientist turned serial, robotics entrepreneur and has developed and launched multiple robotics products including the iRobot Roomba, telepresence robots, and robotic toys.   He founded Embodied, his most recent venture, to develop robots to enhance human-centric care and wellness.
Formerly, Paolo was the Chief Technology Officer at iRobot, Inc. and founder/CEO of Evolution Robotics.  He currently serves and has served as a director on the board of a number of companies including Happiest Baby and Exyn Technologies.
---
Agenda
08:00 – 9:00      Registration and Continental Breakfast (Levine Lobby)
9:00 – 9:05        Welcome & Introduction
9:05 – 10:35      Academic Speaker Presentations
GRASP Lab Research
Kostas Daniilidis (represented by Bernadette Bucher)
Eric Eaton (represented by Jorge Mendez Mendez)
M. Ani Hsieh (represented by Tahiya Salam)
Michelle Johnson (represented by Michael Sobrepera)
Daniel Koditschek (represented by Vasileios Vasilopoulos)
Vijay Kumar (represented by James Paulos)
Nikolai Matni
Marc Miskin
Michael Posa
Cynthia Sung
Mark Yim (represented by Walker Gosrich)
Pratik Chaudhari
10:35 –10:45     GRASP Outreach Programs GRASP Outreach Programs
10:45 – 11:00    Break
11:00 – 12:00    Keynote Speaker
                         Paolo Pirjanian (Embodied, Inc)
                         "Robotics:  From Startups To an Industry"
12:00 – 14:00    Lunch (Levine Lobby)
                          Student Poster Session/Recruiting Tables (Levine Lobby)
14:00 – 15:05    Industry Speaker Presentations
Thierry Klein (Nokia Bell Labs)
"Building the Digital Fabric for the Next Industrial Revolution"
Denise Wong (Exyn Technologies)
"Autonomous Aerial Robots for Data Acquisition in Complex Environments"
Goran Lynch (Intuitive Surgical Inc.)
"Surgical Robotics Control Systems: A Perspective from Product Development"
15:05 – 15:25    Break
15:25 – 16:00    Industry Speaker Presentations
Michael Shomin (Qualcomm)
"Autonomous Driving at Qualcomm"
Cristina Sorice (NASA Jet Propulsion Laboratory)
"JPL Robotics: Earth, Mars, & Beyond"
16:00 – 16:30    Closing Remarks
17:00 – 19:00    Reception & Industry Networking (Pennovation Center)
---
Hotel Information
Book your hotel room:
Visit Penn's local accomodation resources to guide you with booking a room.