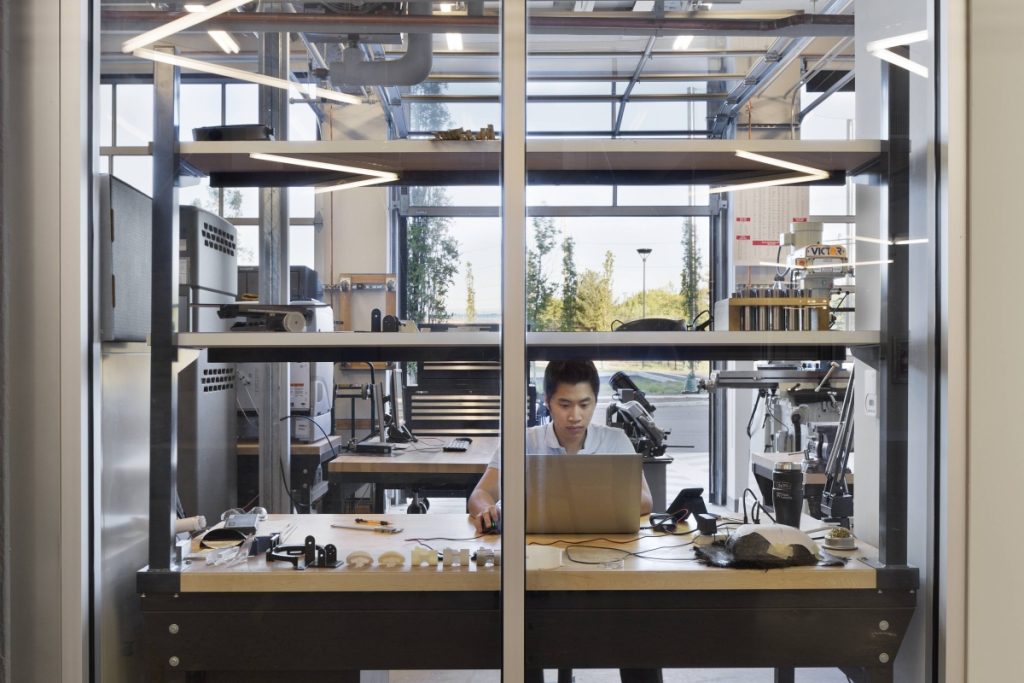 PENN SHUTTLE – For Penn Students, Faculty & Staff with a Penncard
The Penn accessible shuttle may be requested on-demand to travel to/from the main campus to Pennovation. Please dial 215-898-7433, press 3 if you are calling from 8:00 am to 6:00 pm for the "Pennovation Works On-Call Shuttle." If you are calling at another time, press 2 to reach a dispatcher. You will want to request a shuttle from a Penn Transit Stop on Campus (ie DRL, 3401 Walnut) to/from Pennovation. You will be asked for your last name, how many passengers and your phone number so they may call you when the shuttle is approaching.
New Septa Route – 49
See map and schedule here: http://www.septa.org/service/bus/route49.html
---
PERCH Access and Visitor Policies
PERCH is not open to the public and does not hold K-12 tours.
Pennovation Card Access to PERCH is reserved for active students, faculty and staff within SEAS as well as faculty-designated academic collaborators or visitors who have been registered as such with Charity.
Active PERCH members (card access-holders) are welcome to invite guests up to meet with them at the PERCH facility (assuming appropriate space arrangements have been made in advance as needed) but have the responsibility for hosting (and accompanying) them during their stay, and ensuring that their guests leave the premises when the meetings conclude. Visitors staying for more than a brief meeting or paying regularly recurring visits should be reported to Charity.
Whereas visitors are generally welcome, there can be no expectation of tours except by prior (at least 48 hr) arrangement made through Charity. In particular, PERCH hosts should not impose their guests (whether for demos or other consulting) upon other PERCH members except with proper prior notice. PERCH members should not comply with others' guests requests for tours or demos except when arranged through Charity.
Developing corporate connections and collaborations is an important aspect of the PERCH mission, so corporate visitors to PERCH are encouraged (under the terms described above). Since PERCH is a dedicated university fundamental research facility, recurring corporate interactions focused on development or commercialization should be held off the premises.
Informal collaboration with, and visits by, foreign businesses should be screened through Charity at least 48 hrs in advance.
During visiting: photos and videos of students' personal space, lab equipment or setup is NOT allowed. Photos may only be taken of work specifically presented to their guests upon request and with approval.
---
Wifi Policies:
If you are running a 2.4GHz network, please turn it off when you are not actively using it.
Each of the labs has an assigned 2.4GHz channel, please use the one belonging to your lab only. MRSL – channel 1. Modlab – channel 6. Kodlab – channel 11.
If you are running a 5GHz network, you can do whatever you want, there is plenty of bandwidth. As a general rule, all traffic should be moved to 5GHz if possible. The only reason you should have a 2.4GHz network is if you are using it for a robot that is not capable of using 5GHz. Nearly all modern computers can connect to 5GHz (even single board computers like ODROIDs and Rasberry Pis), so if your network only has these kinds of computers connecting to it, please consider turning off your 2.4GHz network and using only 5GHz.