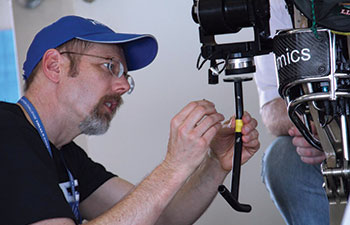 Jeff Trinkle Named to NSF Robotics Post
Posted 23 January 2014
Left: Jeff Trinkle attaches a hook at the wrist of the Atlas robot prior to the ladder-climbing task in the DARPA Robotics Challenge.
The National Science Foundation (NSF) has tapped Jeff Trinkle, computer science professor and director of the Rensselaer Computer Science Department Robotics Lab, for a leadership role with President Barack Obama's National Robotics Initiative (NRI). Starting Jan. 21, Trinkle will serve as program director for the NSF Directorate for Computer and Information Science and Engineering, Division of Information and Intelligent Systems, responsible for advancing NRI.
The multi-agency initiative was launched in 2011 to accelerate the development of the next generation of robots that work beside or in cooperation with people. Researchers envision applications for these "co-robots" in manufacturing, civil and environmental infrastructure, health care and rehabilitation, military and homeland security, space and undersea exploration, and other fields.
Featured People
---