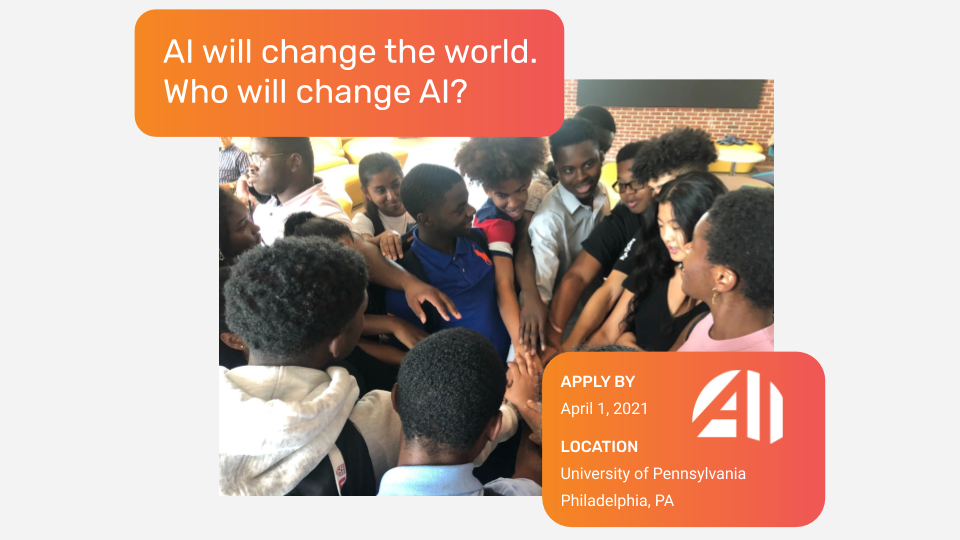 AI4ALL@GRASP
High school students interested in Artificial Intelligence (AI), robotics, and the social impact of these technologies should join this 2-week daytime summer program. No coding or AI experience needed.
---
Program Update:
Due to unexpected circumstances, there will not be an AI4ALL@GRASP 2022 program. We will be taking the time this summer to restructure the program and focus on the long term future of AI4ALL@GRASP. As we look towards the future, we are hopeful that we will be back better than ever for a full in person summer 2023 program.
Covid-19 update:
Our goal is to host AI4ALL@GRASP 2022 in-person in the state-of-the-art Engineering Buildings at the University of Pennsylvania. The COVID-19 vaccine will be required for all participants in the program. We will adhere to all University Pennsylvania guidelines and will continue to be flexible as the COVID-19 situation evolves. All important information will be posted here if something changes.
About AI4ALL@GRASP
The GRASP lab and AI4ALL have partnered to teach Artificial Intelligence (AI) to high school students in the Philadelphia area. The program is focused on engaging students that are underrepresented in the field of AI. Students will experience lectures, hands-on learning, and mentorship as they learn the fundamentals of AI, its application to robotics, and its impact on society. After the program, students can join the AI4ALL alumni community where they will have access to further support including mentorship, research opportunities, connections with their peers, and grant funding.
Who should apply?
The program is for 9th and 10th-grade students from lower-income backgrounds and racial/ethnic groups underrepresented in AI, such as Black, Hispanic/Latinx, Southeast Asian, and Native American. All genders are encouraged to apply. Previous experience with coding, computer science, or artificial intelligence is not required.
Program Location
The in-person program will take place in the Engineering Buildings at the University of Pennsylvania. Students are expected to commute to campus every day of the program. On-campus housing will not be provided.
Tuition
Due to the generous support of our sponsors including AI4ALL, this program is tuition-free. Additionally, all applicants are eligible for a $400 stipend for their participation.
---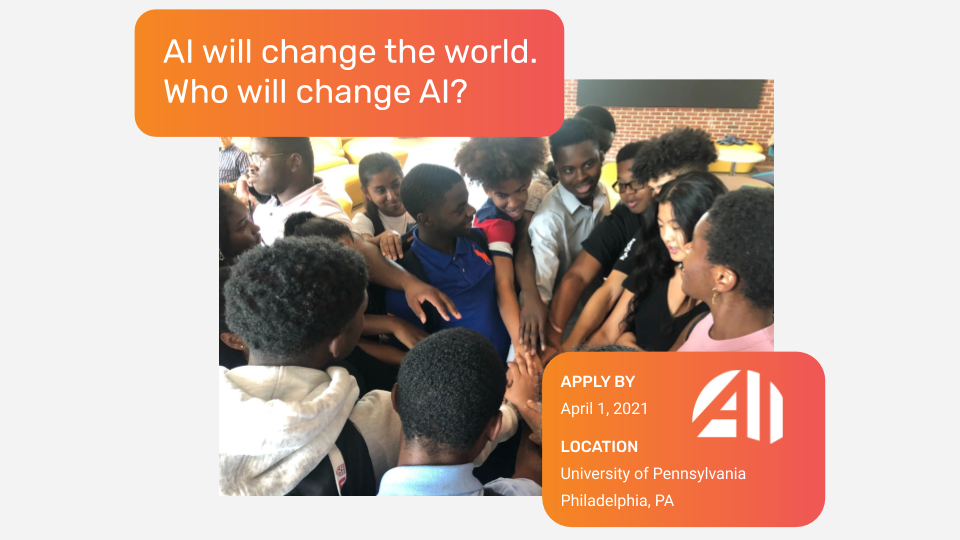 Contact Information
If you are an applicant, there are specific instructions on how to reach out to the program in the FAQ.
If you are a business looking to sponsor or partner with AI4ALL, please contact…ai4all@seas.upenn.edu.