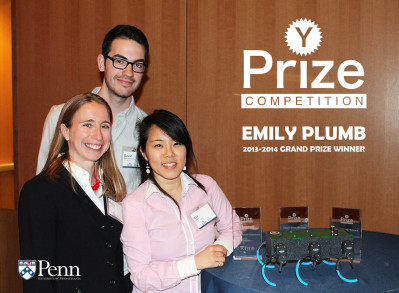 Congratulations to the Y-Prize Winner!
Left: Pictured l-r: Emily Plumb, Gavin Kenneally, Izzy Park, and TRHex
The Mack Institute is thrilled to announce Emily Plumb, a Mechanical Engineering Masters student in the School of Engineering and Applied Science (SEAS), as the winner of the 2013-2014 Y-Prize Competition.
Emily is a passionate advocate of STEM education for young children, and her enthusiasm showed clearly throughout her presentation at Monday night's Grand Finale. Before a panel of judges and a standing-room-only audience, she pitched her business plan: TRHex, a teaching robot hexapod designed to give kids hands-on experience with physics and engineering concepts.
TRHex is a low-cost, all-in-one educator's package, including a fully developed curriculum and eight biologically-inspired, six-legged robots developed through the SEAS Kod*Lab. The robots come with interchangeable parts, such as legs coated with different materials, so that kids can easily change variables and experiment with concepts like friction. For each TRHex package purchased, two robots will be donated to a low-income school.
Emily accepted the award accompanied by her GRASP Lab Tech Consultant Gavin Kenneally and Wharton Business Consultant Isabelle Park. The Y-Prize provides participants with consultants throughout the competition, to help them understand the robotics technologies and refine their business plans.
We extend huge congratulations to Emily, Gavin, and Izzy!
Featured People
---