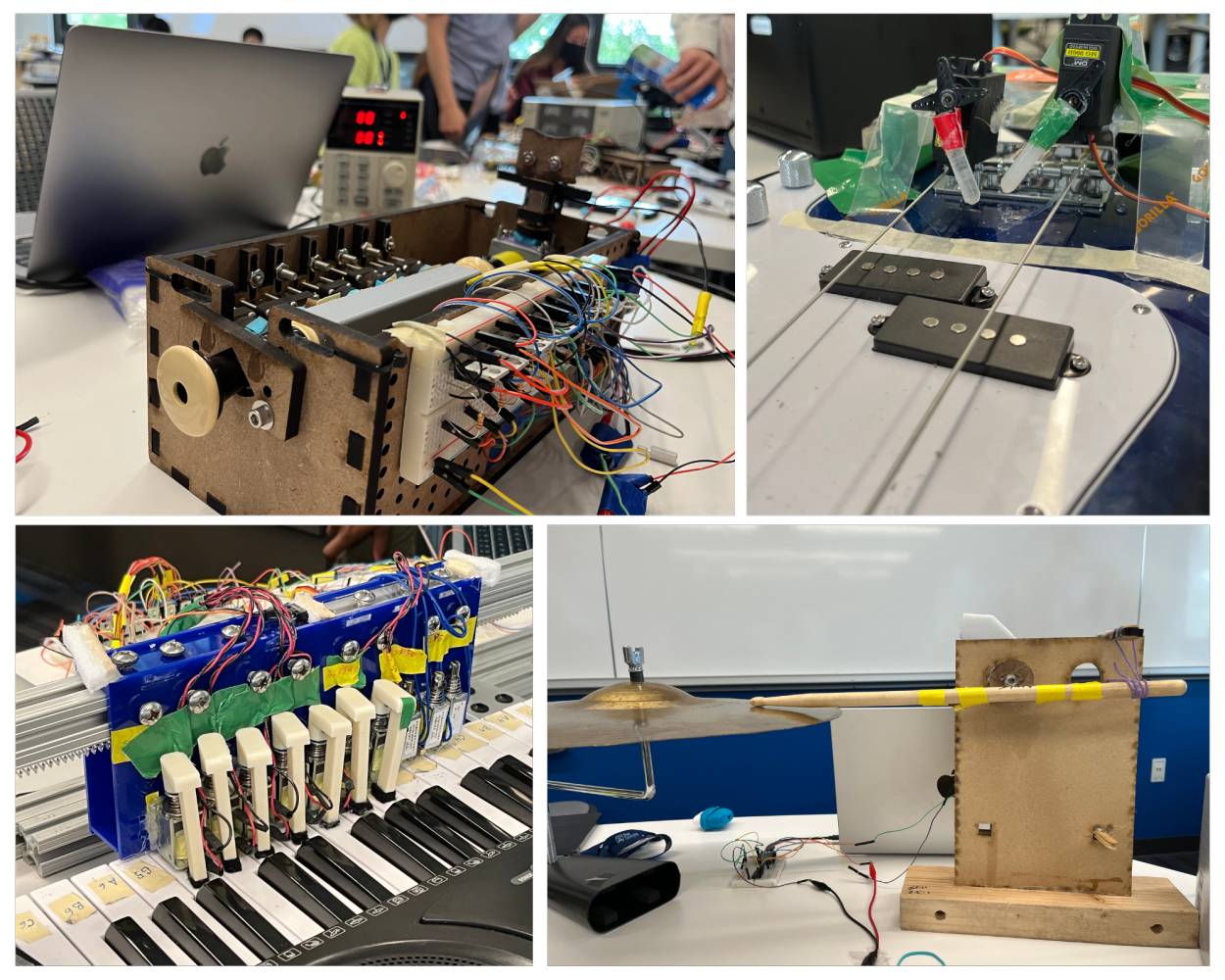 Published by: Mechanical Engineering and Applied Mechanics, University of Pennsylvania
The Engineering Summer Academy Program (ESAP) finished last Friday with a performance of The Backstreet Boys' I Want It That Way. The twist? It was played by robots. This year, the Robotics program welcomed 35 high school students onto the Penn campus for a three-week long crash course on topics including basic circuits, programming, and motors. Students joined with different levels of engineering experience, but all excelled in the rigorous program.
The final performance involved two keyboards, four drums, two cymbals, two bass guitars, and for the first time ever, four recorders. The program ignited students' creativity and curiosity as they overcame challenges with teamwork and guidance by our esteemed faculty, lecturer Patrick Brandon and MEAM professor Mark Yim. Students in the recorder group mentioned the challenge of the curvature of the instrument; closing the tone holes entirely required multiple trials with a range of different materials. Finally, they ended up using foam toe spacers that had the right consistency they were searching for.
Using 3D printers, Arduino micro controllers, laser cutting, and makeshift engineering practices like duct tape and rubber bands, these students explored the realm of robotics. "Robotics is the intersection of mechanical, electrical, and computer science," said Yim as he spoke to parents who joined for the final performance. Residential TAs made remarks about the hardworking nature of this group of students and their drive throughout the program. One student commented, "I came to this camp hoping to expand my knowledge on electrical engineering and coding, and I did. Professor [Yim] and Pat [Brandon] taught me a lot".
Mark Yim is a professor within the Mechanical Engineering and Applied Mechanics department and director of the GRASP Lab, the oldest robotics laboratory in the nation.
To learn more about the ESAP Robotics program, click here.
#robotics #pennengineering #meam #universityofpennsylvania #esap #summerprogram #innovation #performance #arduino #microcontrollers
Featured People
---
Director, GRASP Lab; Faculty Director, Design Studio (Venture Labs); Asa Whitney Professor, MEAM