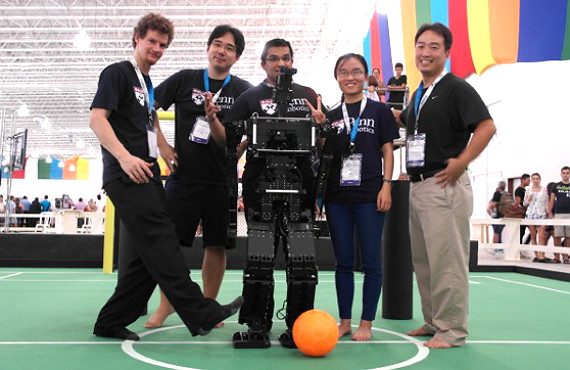 Penn Robotic Soccer Team Reigns Supreme
Media Contact: Evan Lerner | elerner@upenn.edu | 215-573-6604 | Posted 28 July 2014
Left: Members of Penn's robotic soccer team, Steve McGill, Seung-Joon Yi, Larry Abraham, Karen He and Daniel Lee, with THORwin.
The University of Pennsylvania's robotic soccer team now has another world championship trophy to add to its collection.
Coached by Daniel Lee, director of the School of Engineering and Applied Science's GRASP Lab, the team consists of Steve McGill, Larry Abraham, Karen He, Seung-Joon Yi, Dickens He, Chris Akatsuka, Junda Zhu, Sagar Poudel and Jianqiao Li.
They accomplished this feat at RoboCup, an annual event that brings the top robotics programs from around the world to face off against one another in a test of a variety of engineering disciplines. This year's event was held in João Pessoa, Brazil, and featured hundreds of students from 45 countries.
RoboCup features several different kinds of robotic competitions, but its soccer leagues all have the same familiar rules: get a ball past your opponents and into their goal. All of the robots must see the ball, goals, other players and the field outlines using onboard cameras and must make all decisions autonomously. Their human minders have no control once they are on the pitch.
Featured People
---
GRASP Faculty Member until '18, Executive Vice President, Samsung Research
Robotics MSE '15 - Machine Learning Software Engineer, Facebook
Robotics MSE '11; PhD, ESE '16; Manager, Driver Risk Assessment, Toyota Research Institute