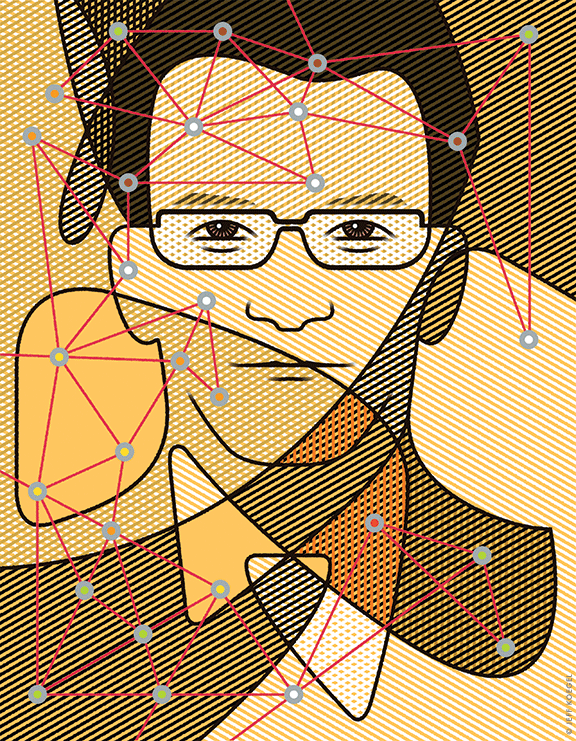 Pure to Applied
By: Kevin Hartnett | Illustration By: Jeff Koegel | Posted 23 June 2015 
Last March seven researchers from the University of Pennsylvania landed in Dayton, Ohio for two days of meetings at the Air Force Research Laboratory. The lab, housed on Wright-Patterson Air Force Base, has been home over the years to breakthroughs in everything from lasers to propulsion technology, and the agenda for these meetings was no less forward-looking: to consider ways of engineering fully autonomous flying robots able to work together to search buildings, track targets, and gather information about areas that are too dangerous for US soldiers to enter.
Among the representatives from Penn was Andrea Mitchell University Professor Robert Ghrist, a Penn Integrates Knowledge (PIK) professor with appointments in the departments of mathematics and electrical/systems engineering. Not long ago, the presence of an applied mathematician like Ghrist at this kind of meeting would have been surprising. His specialty is algebraic topology, an abstract branch of mathematics that studies the properties of different kinds of spaces and has existed as a purely academic pursuit for most of its history.
Yet over the last decade, Ghrist has found a number of innovative ways to use algebraic topology to solve real-world problems in robotics and sensor networks. These discoveries have helped make him one of the best-funded mathematicians in the world. Over the last decade he's been a principal investigator on more than $20 million in grants from military organizations including the Defense Advanced Research Projects Agency, the Department of Defense, and the Office of Naval Research.
Featured People
---
Associate Dean, Undergrad Education; Andrea Mitchell University Professor, Mathematics & Electrical/Systems