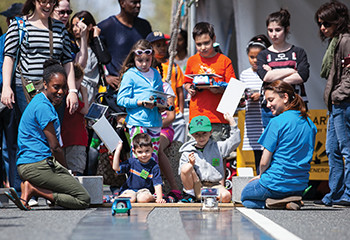 Philly's Science Festival puts Penn expertise on display
By Sarah Welsh | Posted 16 April 2015
The fifth annual Philadelphia Science Festival will be held from April 24 to May 2, bringing together people of all ages and backgrounds to learn about science through dozens of interactive events. Once again, Penn students, faculty, and staff will be well-represented at the festivities.
The Philadelphia Science Festival, organized by The Franklin Institute, runs from April 24 to May 2.
Organized and led by the Franklin Institute and sponsored by the Dow Chemical Company, the 2015 festival involves more than 200 partners around the city, including Penn and other universities, museums, research centers, corporations, and cultural and community institutions.
Daniel Ueda, the associate director for education and outreach in the General Robotics, Automation, Sensing & Perception (GRASP) Lab in the School of Engineering and Applied Science, has been involved with the festival since its inaugural year. He says he has always looked up to TV personalities like Bill Nye the Science Guy and Mr. Wizard for their ability to make science popular and exciting. The goal of the Philadelphia Science Festival is to do just that.
Featured People
---
Office of Diversity, Equity, and Inclusion at University of Pennsylvania 2014-2020