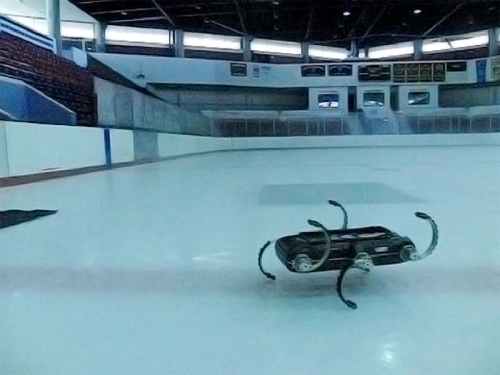 A robot learns to ice skate
---
'RHex,' started over a decade ago for search-and-rescue, is learning to walk on ice
By: Jing Ran | Posted 5 November 2013
RHex is a six-legged robot whose team hopes to one day use it for search-and-rescue missions or data collection. The decade-old project began to move on ice eight weeks ago.
---
A six-legged robot is a new weekly skater at Penn's ice rink.
RHex, a research project created over a decade ago by engineering professor Daniel Koditschek, is a robot designed to handle a variety of terrains, including desert, rocks and, most recently, ice. The team hopes that the robot can one day be used for search-and-rescue missions as well as data collection.
Anna Brill, an Engineering sophomore who worked as an undergraduate mechanical engineer in Kod*lab during the summer, came up with the idea of running RHex on ice. She was encouraged by both Koditschek and her mentor, who also works on the project, to pursue her own personal research project.
"As someone who is also interested in the artistic aspect of robotics, the idea of a robot that could elegantly ice skate seemed both an artistic and a scientific goal," she said.
Featured People
---