Written by Jillian Mallon
September to March is a busy period for Robotics Master's students. Between coursework, MSE theses, internships, and preparing for their careers after graduation, it is hard to imagine them taking on another project that will span that same time period. Even with such packed schedules, twelve ROBO Master's students lent their growing expertise in automation to the SICK TiM$10K Challenge to create new applications for sensor technology.
SICK, a Germany-based global manufacturer of sensors and industrial process automation technology, has been holding their TiM$10K Challenge since 2018. The challenge revolves around finding innovative applications for their SICK TiM-P 270 ° 2D LiDAR sensor that, according to the challenge summary, electro-sensitively scans its surroundings with laser pulses and measures the surroundings using 2D polar coordinates and a unique HDDM (High-Definition Distance Measurement) method in order to area monitor scanned surface. Technical students at universities across the United States were encouraged to form teams of four to six students to use the TiM-P LiDAR to "solve a problem, create a solution, and bring a new application that utilizes the SICK scanner in any industry."

Twenty teams who registered for the challenge were selected by SICK on September 30th to compete and create a prototype, paper, and video of their presentation by March 31st of 2023. This was the first year that ROBO Master's students were encouraged to apply to this initiative by GRASP administration and their program chair. Impressively, all three teams from GRASP who registered for the challenge were selected as finalists! SICK provided each of these teams with one TiM-P sensor and one AppSpace developer license to use to create an individualized SensorApp.
UPenn Team 1 consists of ROBO students Aadit Patel, Rithwik Udayagiri, Sharon Shaji, Pranav Shah, and Aadith Kumar. Their invention, SauberBOT, named after the German word for "clean", aims to address the growing shortage of labor in the cleaning industry by introducing automation to the process of litter removal in vast open spaces. The process of manually cleaning litter is time-intensive and repetitive. By implementing intelligent and autonomous solutions, the goal of UPenn Team 1's project was to free up the workforce, allowing companies to allocate resources to more intricate and critical cleaning tasks that require human attention.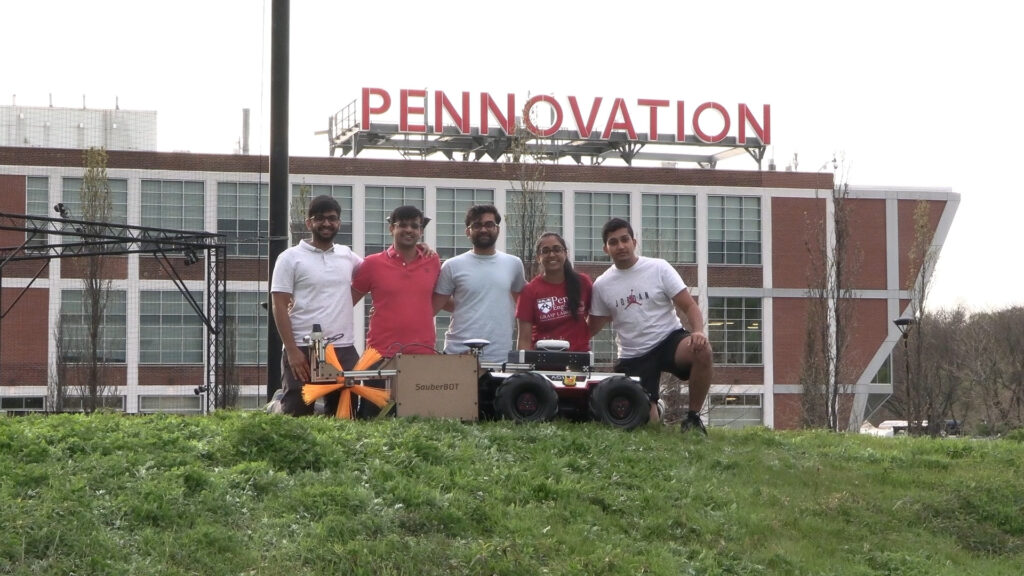 The SauberBOT is an autonomous robot that is programmed to navigate within a predefined geofenced region to collect specific types of litter within its boundaries. The robot is equipped with a low-latency GPS receiver, a camera system capable of intelligently identifying collectible litter, and a SiCK TiM LiDAR sensor for scanning the environment and detecting obstacles. The data inputs from the sensor are processed by onboard high-performance processors running inference and planning algorithms.
Informed by extensive market research, including insights from Penn Facilities and Aramark, the team developed the product based on three fundamental design principles: modularity, simplicity, and safety. Recognizing the diverse terrains and functional requirements of the cleaning industry, the SauberBOT team opted for a modular approach, allowing each component of the robot to be customized and upgraded as necessary. This approach enables companies to start with a basic model and gradually enhance it over time, providing an economical and easily maintainable solution while lowering the entry barrier for smaller businesses. The LiDAR sensor assists in maintaining the safety of the product, ensuring that the robot identifies suitable objects for collection while detecting and avoiding obstacles.
UPenn Team 2, Tri Le and Yiming Huang, chose to create an application that utilizes the SICK TiM 2D LiDAR scanner in the inventory management industry. Since automation has been adopted by many large businesses in response to supply chain issues, Tri Le and Yiming Huang decided to develop a system that would allow smaller businesses to benefit from automation.
They used their TiM LiDAR sensor to create a sparse 3D reconstruction module for mapping an inventory area. The invention consists of the TiM 2D LiDAR sensor rotated sideways by a motor that allows the sensor to scan the environment and collect data. Data collected by the sensor and a small camera mounted on the device is sent to the Raspberry Pi 4 computer on the device that drives the motor and collects the sensor data to send wirelessly to an external computer. The collected data is used to construct an RGB labeled 3D point cloud reconstruction of the environment that can be used to understand the initial state and any changes to the state of an inventory environment.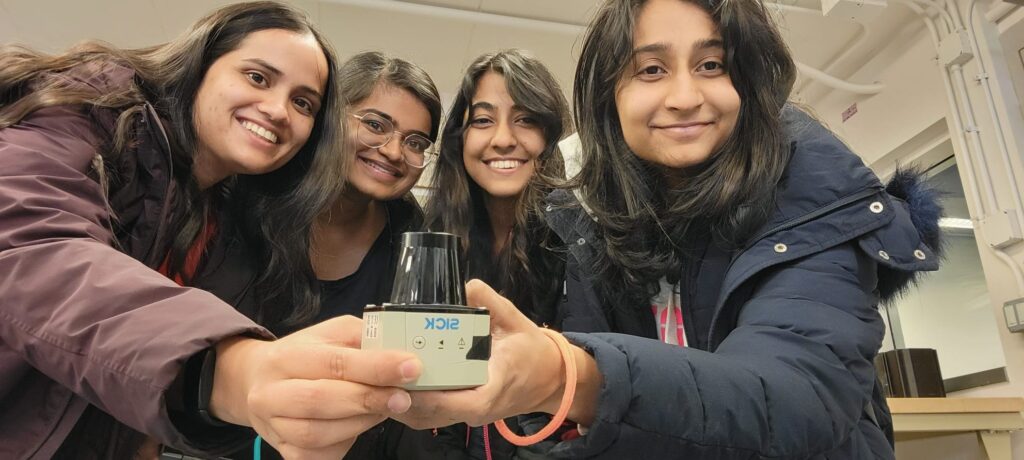 Jasleen Dhanoa, Swati Gupta, Gaurav Kuppa, Ruchi Gupte, and Manasa Sathyan are the members of UPenn Team 3. Their invention, SkyView, was developed with the intention to solve the problem of safety risks and power outages caused by tree overgrowth on power lines and to improve the process of large-scale electric grid line maintenance for power grid line companies. UPenn Team 3 spoke with representatives from energy companies PECO and PG&E and learned that while manual electric grid inspection can be time-consuming, labor-intensive, and hard to access, it is essential to the business because US regulations require maintenance and inspections of long-range distribution lines. Dr. Ani Hsieh was the advising professor for this team, and she connected Team 3 to electrical and computer engineering professor Dr. Anthony Deese at The College of New Jersey. He was able to provide the team with insights into the issues that electrical grid companies face.
The team found a way to use SICK's TiM 2D LiDAR sensor to collect depth information along a plane to differentiate between the power grid line and objects in the background and detect vegetation that is encroaching on power lines through automation. Their product is composed of the TiM 2D LiDAR sensor mounted on a drone that will monitor electric grids from safe distances and capture point cloud data of the power lines and its immediate surroundings. The drone is flown at various levels around an area of possible tree overgrowth to capture multiple point clouds of different planes. The SkyView team then assesses the data by watching a side-by-side time-aligned view of the point cloud data next to the camera feed of the drone.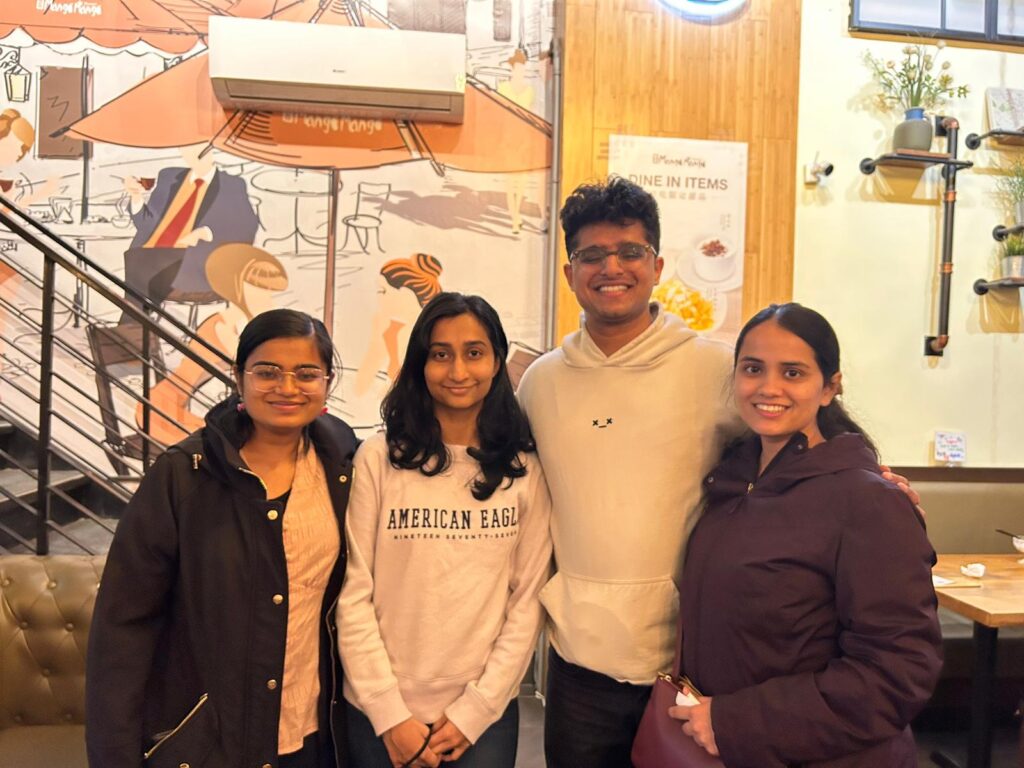 All twenty selected teams submitted their final paper and video submission by March 31st, after which a panel of judges evaluated each team's invention using the following criteria: creativity and innovation, ability to solve a customer problem, commercial potential to productize and market the application, entrepreneurship of the team, and reporting.
On May 19th, SICK held a virtual TiM$10K Awards Ceremony to announce the winners, and the ROBO competitors brought home not one, but two wins!
The first place winner was GRASP's own UPenn Team 1 for the invention of their SauberBOT! Aadit Patel, Rithwik Udayagiri, Sharon Richu Shaju, Pranav Shah, and Aadith Kumar received the first place prize of $10,000 and an all-expenses paid trip to SICK Germany to visit their headquarters and manufacturing facility. Their advising professor, Dr. Nadia Figueroa, will be joining them on this trip.
The third place win went to one of our ROBO Master's teams as well! Jasleen Dhanoa, Swati Gupta, Gaurav Kuppa, Ruchi Gupte, and Manasa Sathyan of UPenn Team 3 accepted the $3,000 third place prize for their invention of SkyView.
Both teams were praised by SICK's Industry Marketing Manager, J. Bryan Sellars, for the ingenuity of their projects and their extensive market research. The GRASP Lab administration and faculty are similarly proud of the work of these students. These three teams of creative engineers were able to demonstrate their excellence in research, programming, design, and innovation through their inventions. More importantly, these groups showed how these skills could be put to use to assist other industries and improve the quality and efficiency of their work. GRASP would like to thank these students for exemplifying the limitless potential of their efforts.