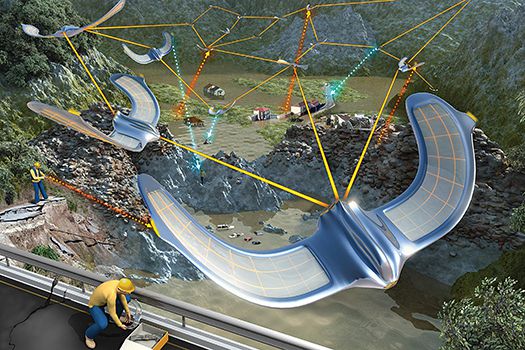 THE FUTURE OF FLIGHT: SWARMS WILL DOMINATE THE SKY
COORDINATED SWARMS OF DRONES COULD POLLINATE CROPS, MONITOR TRAFFIC, AND MORE.
By David Hambling | Posted 2 July 2013
Image: Skynet – Researchers in Switzerland recently developed a concept to use a swarm of UAVs as a local communication network for emergency workers in disaster areas.Courtesy EPFL
Last year, researchers at the University of Pennsylvania Grasp (General Robotics, Automation, Sensing & Perception) Lab gathered a dozen or so quadrotor unmanned aerial vehicles (UAVs), programmed them to work in concert, and set them loose on a roomful of improvised instruments. The hovering swarm dutifully reproduced the James Bond theme song.
In biology, a swarm is a collection of individuals that manifest complex behavior without a leader calling the shots. Imagine birds spontaneously gathering on a single tree, only to lift off en masse moments later. Scientists have applied swarm intelligence to driving robots, but they now have the processing power and sensing capability to apply it to flying ones too.
Featured People
---