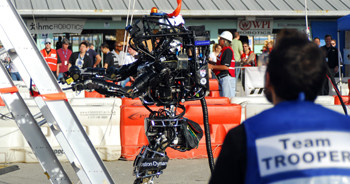 Penn roboticists take on the world
By: Evan Lerner
Left: Team TROOPER's humanoid robot climbs a ladder during the DARPA Robotics Challenge Trials at Florida's Homestead Miami Speedway.  In late December, teams from around the world descended on Florida's Homestead Miami Speedway with millions of dollars of high-performance machinery in tow. But instead of the racecars that usually compete on the track, this was a battle between 16 of the most advanced robots on the planet.
The event that brought these machines together was the DARPA Robotics Challenge Trials, a competition designed to push the envelope in terms of robots that could autonomously serve in emergency and disaster scenarios that would be dangerous for humans.
Penn faculty and students played a role on two of the teams. Team THOR is a collaboration with Virginia Tech and Korean robotics company Robotis, and is co-led by Daniel Lee, a professor in the School of Engineering and Applied Science and director of the GRASP Lab. Team TROOPER, which included engineers from Lockheed Martin and Rensselaer, features fellow Penn Engineering professors Kostas Daniilidis and Vijay Kumar.
Featured People
---
Ruth Yalom Stone Professor, CIS
Nemirovsky Family Dean, SEAS
GRASP Faculty Member until '18, Executive Vice President, Samsung Research