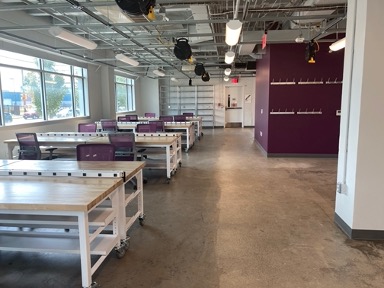 By Jillian Mallon
One of the first things that you may notice when entering the GRASP Laboratory's new location in Suite 250 of Lab Building 250 at the Pennovation Center is the color scheme. Eye-catching teal and purple accent walls are scattered throughout the space and the collaborative work tables in the main lab area are lined with purple chairs. These bright and unique pops of color evoke a sense of whimsy and creativity that echoes the sentiment behind the space's official name: the GRASP Treehouse.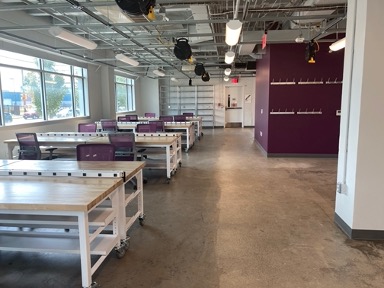 "Childhood is often one of the most creative times in our lives. In the United States, treehouses are often considered children's spaces. A treehouse is a place where kids can go and play pretend and really let their imaginations go," Professor M. Ani Hsieh, the GRASP Lab's Deputy Director, explains, "And the idea behind the GRASP Treehouse is that this is space where students can go and spend time with their peers, be inspired, let their creative juices flow, and come up with clever, ingenious, and creative solutions to interesting and impactful engineering problems within the scope of robotics and automation."
The Treehouse is GRASP's third official location at the Pennovation Center campus. It is located in Building 250 of the complex, which is conveniently located between Building 200 which houses the PERCH Library and Dr. Hsieh's ScalAR Lab and Building 450 which houses the GRASP Lab at PERCH and GRASP's Design and Fabrication Facility.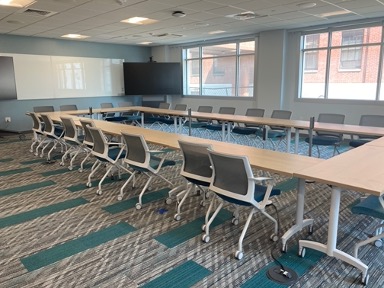 Dr. Hsieh, who is also the Graduate Program Chair for the Robotics Master's (ROBO) program, explained that the GRASP Treehouse was designed to predominantly be a space for ROBO students to work on projects and collaborate with their colleagues at Pennovation. "This is the first space that is specifically dedicated to ROBO students and their research and project needs. The space will allow ROBO students to connect with one another and collaborate on projects and research," Dr. Hsieh said.
The main room of the Treehouse suite is a lab space with four lab bench sections comprised of a total of 16 work desks, all facing each other to encourage collaboration. There will be no assigned desks so that students can use any of the project space as needed. "This is the space for students who are completing ROBO capstone projects or ROBO theses," Dr. Hsieh stated, "If they need to conduct experiments with their robot, this is the place to do it. The space can be adapted based on a project's experimental needs." There are 3 additional desks against one of the walls, as well as a row of large storage cabinets and shelving units intended for robot and project storage. There is a kitchenette in this room as well.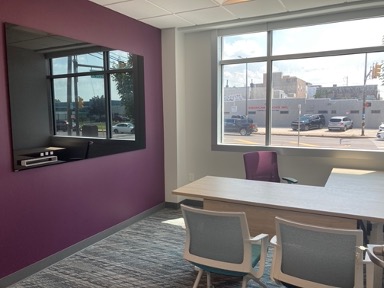 The space is equipped with a multi-purpose room that is intended to be a flexible space to host any GRASP-related events including workshops, seminars, new student orientations, ROBO capstone and thesis presentations, and informal hack-a-thons. With classroom and lecture space being such a valuable currency at Penn, having this resource dedicated to GRASP will open up opportunities to host events more frequently.
There are two offices in the Treehouse as well. One of them is a shared faculty office room that any GRASP faculty members who do not have offices at Pennovation's campus can use to meet with their advisees and check in with the projects at the Treehouse that they might be overseeing. The other is the office of the ROBO Graduate Coordinator, Mariel Celentano, who will be easily accessible for any ROBO students working at that location who have any questions about their program. There is also a small conference room for any meetings that students have with each other or outside collaborators.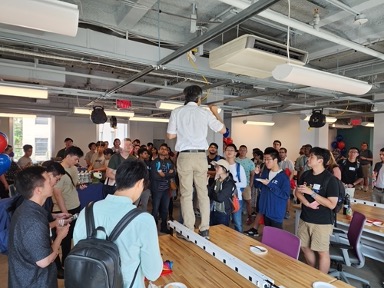 The GRASP Treehouse officially opened for use on Friday, August 25th. The inaugural meeting in the Treehouse conference room was the New Student Orientation event for incoming ROBO students, followed by a Grand Opening celebration in the main lab area that was open to all GRASP members who were interested in checking out the new space. About 80 new and returning GRASP members toured the suite while enjoying refreshments.
Professor Mark Yim, the Director of the GRASP Lab, invited everyone in attendance to make a toast to the SEAS Dean, Dr. Vijay Kumar, whose efforts made the opening of this new space possible.
GRASP is looking forward to the new opportunities that this space will bring to the expanding Robotics Master's Program and all GRASP faculty, students, postdocs and staff. Thank you to everyone who played a part in the planning process and helped us celebrate at the Grand Opening!